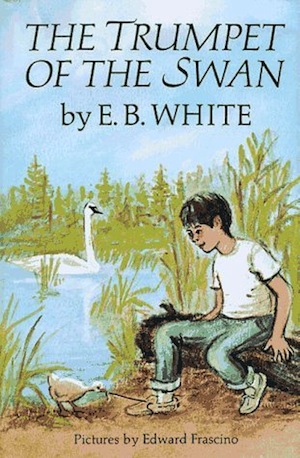 While Charlotte's Web and Stuart Little get all the glory, E.B. White's third children's book, The Trumpet of the Swan (1970), is relatively overlooked. And this is a crying shame! I loved it when I was eight, and now, reading it again, I realize there's even more to admire.
As you may recall, the story is about Louis, a trumpeter swan who, born mute, compensates by learning to read, write and play an actual trumpet. Because he is a swan of honor, Louis feels obligated to pay for his instrument, which his father stole for him. So he takes on a string of jobs, including a camp counselor gig in Maine and a nightclub stint in Philly. Although the plot is admittedly daffy, White's prose is at its most eloquent and luminous and the book is just very … soulful. John Updike, who reviewed the book for the Times(!), said it was "the most spacious and serene of the three [E.B. White novels] … the one most imbued with the author's sense of the precious instinctual heritage represented by wild nature."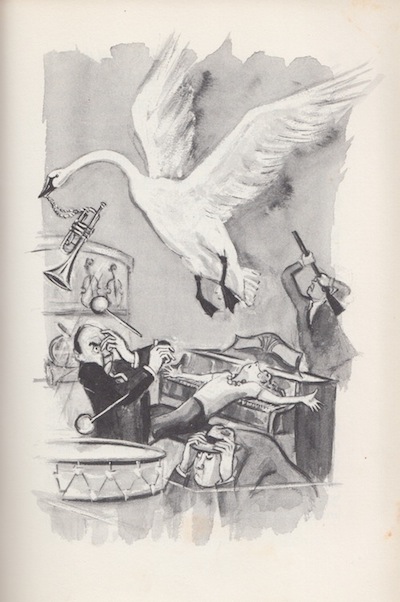 But what was my favorite discovery upon re-reading the book? The hilarious character of Louis's father, a blustery cob who never uses one word when he could use ten. Here's what he tells little Louis after he steals him the trumpet:
"I have been on a journey to the haunts of men. I visited a great city teeming with life and commerce. Whilst there, I picked up a gift for you, which I bestow upon you with my love and my blessing… Learn to play it Louis, and life will be smoother and richer and gayer for you!"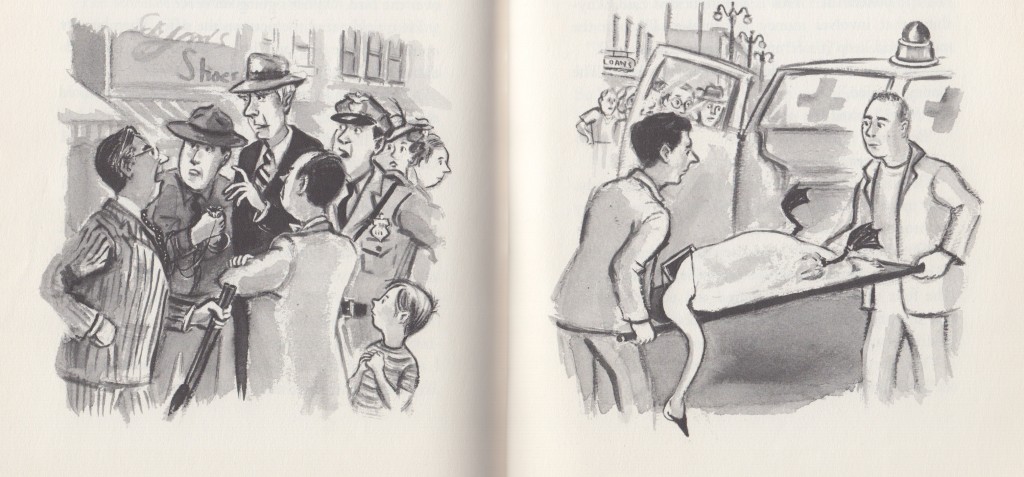 Even when he talks to himself, he's dramatic and bombastic. This is from his over-the-top soliloquy toward the end of the book:
"Man, in his folly, has given me a mortal wound. The red blood flows in a steady trickle from my veins. My strength fails. But even in death's final hour, I shall deliver the money for the trumpet. Good-bye, life! Good-bye, beautiful world! … I, who am about to die, salute you. I must die gracefully as only a swan can."
Every time the bird opens his beak, it's priceless. And when you remember that White co-wrote The Elements of Style — the writer's handbook that commanded "Omit needless words" — it's even better.