I'm a big fan of Lynda Barry (Marlys and Maybonne forever!), Jules Feiffer and Art Spiegelman. So a few years back, I introduced S & L to graphic novels. We started with the collection Little Lit: Folklore & Fairy Tale Funnies. Edited by Art Spiegelman and Francoise Mouly, it features contributions from 16 artists, including Spiegelman, Daniel Clowes, and Chris Ware. Each story is a retelling of a classic folk tale, and the kids still get a kick out of the twisted plots. Because a lot of traditional tales have elements of the brutal and grotesque, the edgy illustrations feel just right. Here's Daniel Clowes's take on Sleeping Beauty: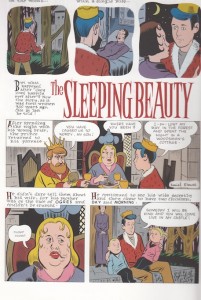 The followup title, Little Lit: Strange Stories for Strange Kids, is even better than the first. The stories all have an unearthly, sort of Twilight Zone quality. S & L cannot get enough of the one called "The Day I Disappeared" by Paul Auster (!). In keeping with Auster's usual obsessions, it's about a man who wakes up invisible to others — possibly dead — and spends the day trailing his real, living self. The illustrations, by Jacques de Loustral, have a very Hopper-esque quality.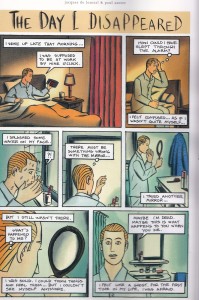 The only problem I had with the Little Lit books was that they were a bit complicated for my daughter to read on her own. So I was thrilled to discover the Toon Books series, also created by Mouly and Spiegelman, designed for emerging readers.  When S finally started reading on her own, she must have read Stinky by Eleanor Davis (about an adorably disgusting monster who's scared of kids) at least 15 times.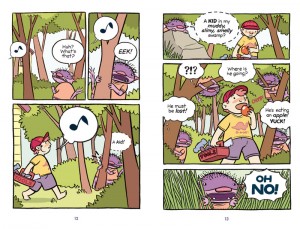 There are almost 20 titles in the Toon Books series, and I managed to buy or borrow almost all of them.