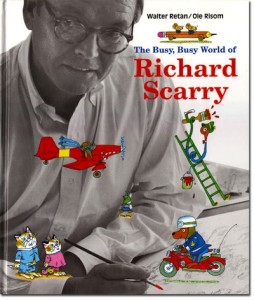 I've been reading The Busy, Busy World of Richard Scarry (1997) by Walter Retan, Scarry's longtime editor at Random House and Golden Press. I've always loved the way Scarry was able to cram so many little details onto a page and explain complicated real-world things (like the workings of a paper factory), with such precision. But who knew he lived such a glittering life? (At one point, says Retan: "They were weary of the constant parties, the steady flow of house guests, the drinking and the endless interruptions.") Or that his books made such gazillions? (Think: foreign editions.) I learned a few other things as well…
1) There's a reason Lowly Worm wore a Tyrolean hat.  Scarry was a Boston-born, Brothers-wearing, New England preppy but moved permanently to Switzerland with his wife and young son in 1968. This also explains why Huckle Cat wears those leiderhosen.
2) He was fired from Vogue after three weeks. After serving in WWII Scarry got a job in the art department of Vogue. When they told him that he wasn't right for the position, he asked them why they had hired him in the first place. The HR person explained that they had been impressed by his white suit and blue shirt. (Scarry was a very stylish dresser.)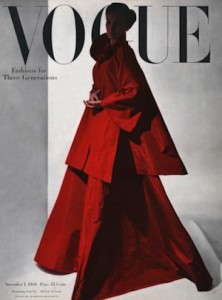 3) He married Peggy from Mad Men! Not really, but when Scarry met his chic wife-to-be, Patsy Murphy, in 1948, she was working as a copywriter at Young & Rubicam. She later went on to write books with Scarry, but for a time she helped support the couple with her work at the agency.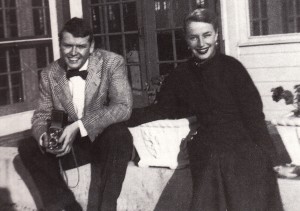 4) These are his granddaughters, Olympia and Fiona Scarry. Readers of Vanity Fair, Harper's Bazaar, and WWD know the Swiss socialites by their regular party page appearances. Olympia is an installation artist who has worked for Matthew Barney and wears a lot of YSL and Haider Ackermann. (You can check out her recent appearance in Interview magazine here.)