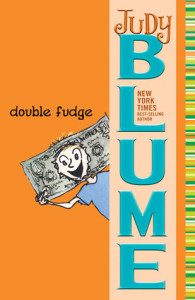 Double Fudge has no sex scenes and not even a single stuffed bra. But the fifth installation in Judy Blume's Fudge series has something grownups can appreciate: A realistic view of what it's like trying to raise three kids in Manhattan on a not-astronomical income.
Blume has never hesitated to spell out the Hatcher family's precise economic situation. In Tales of a Fourth Grade Nothing, we learn that the family lives in a two-bedroom, one-bathroom on 25 W. 68th St, where Fudge sleeps in the converted den. Throughout the series, money and real estate are the engines that drive the plots (Fudgie's antics aside). In Fourth Grade Nothing, Peter's dad, who works in advertising, is fired from the Juicy-O account after he makes the mistake of inviting his boss for an overnight visit; later, Peter's dad only allows Fudge to appear in the Toddle Bike commercial because he can't afford to lose another account. In Superfudge, baby Tootsie is born and the family temporarily decamps to Princeton, NJ, where Peter's dad, apparently having a mid-career crisis, attempts to write a book; we also learn that Peter's mom, a dental hygenist, dreams of going back to school for art history. In Fudge-a-Mania, the family must share a cramped summer house with Sheila's family because neither can afford to rent their own houses.
Double Fudge was published a full three decades after Tales of a Fourth Grade Nothing, and the city Blume portrays has the distinct feeling of a boom-era New York. Peter's friend's dad, the formerly struggling artist Frank Fargo, is at a career high, and moves to a big loft in SoHo. Frank's paintings, Peter realizes, are now too expensive for the Hatchers to afford.  And then there's Fudgie's new friend, six-year-old Richie Potter. Richie is a child of privilege and a masterful underminer. When Fudge and Peter's mom tells Richie she's a dental hygenist, he informs her, "One of my grandpas is a very famous neurosurgeon." When the mom tells Richie they don't have a cook, he says, "Oh, I'm sorry. I didn't know you were poor." Later he tells the family about his own mother: "She's a designer. You can get clothes with her name on it." There is also his discussion of their summer house (clearly in the Hamptons). "We have a house at the beach. Do you? … Our house is on the ocean side but we keep our boat at the bay." We've all met a Richie Potter — maybe our kids have even gone to school with one — and we all want to slap him.
In the midst of all this, Blume introduces the characters of Howie Hatcher and his family, whose defiantly bohemian lifestyle is a direct repudiation to the New York City rat race. These Hatchers live in Hawaii, home-school their daughters (the "Natural Beauties") and distain television. But they are insufferable, moralizing mooches who turn out to be weak and hypocritical.
My kids loved Double Fudge, as they loved every one of the Fudge books. They snickered at Richie Rich, howled at the "Natural Beauties" and practically cheered when the overbearing relatives finally moved on. But by the end of Double Fudge, I must say I felt a little bit sad. Their mom has stopped talking about getting that art history degree and the family is still sharing the one bathroom. (What will happen when Tootsie gets potty trained?)
I can only hope that Judy Blume pulls out another Fudge book in a couple of years. In this one, an elderly neighbor in their building could die and leave the family her classic six, which the Hatchers combine with their apartment. That's the New York dream, right?