When I heard that Annie Barrows was going to be doing a young readers' event  at Symphony Space, I bought tickets for myself, S, and her friend Z. Not knowing what to expect, I didn't sell it too hard to S — I mean, it was a book event, not the new production of Annie. I figured that at the very worst, the night would be a bit of a snooze, with Barrows reading from the new Ivy & Bean (which we've already read) and answering a bunch of questions. I expected S to do some fidgeting. But, eternal optimist that I am, I also hoped that seeing one of her favorite authors would spark something.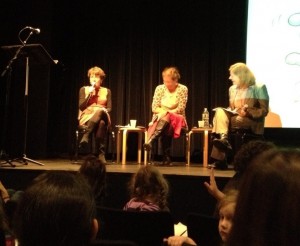 Well … as it turned out the night was a total hit. The series' illustrator, Sophie Blackall, was there too and the pair were adorable: Barrows with short dark hair, darting eyes and a sly delivery; Blackall, looking very Park Slope boho, her blonde hair in a messy braid. Barrows read the first chapter from Make the Rules and, even though she was losing her voice, made it sound fresher and funnier than I remembered. They showed a slideshow with pictures of their own kids, their desks, early sketches of the characters, and alternate book covers. For S, it was a great introduction into the process of putting together a book. There was even a little writing exercise for the kids. Barrows read a graph of what sounded like the beginning of a new Ivy & Bean escapade and then told the girls to continue the story with the paper and pencils handed out earlier.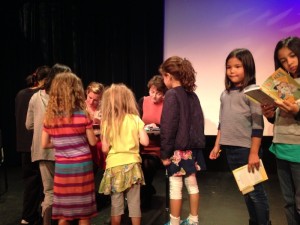 S immediately began scribbling away (the premise had something to do with Ivy & Bean trying to make soup) and didn't want to stop. By the next morning, she had a chapter.