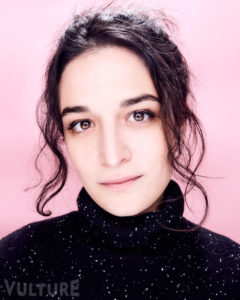 There are so many reasons to love Jenny Slate. The 35-year-old comedian-actress is funny, sexy, fiercely feminist, and just goofy enough that you feel like she could be someone you know. I loved her in Obvious Child (the 2014 indie film that flaunted both her ingenue radiance and raunchy potty mouth) and to this day I cannot order a sandwich without thinking about Catherine, her bizarre 12-part web series that is either totally unwatchable or the best thing you've ever seen on YouTube. (I guess you could call it normcore. Please try it!) Of course, Slate is also co-creator of the genius Marcel the Shell web series (and children's books).
But what really sealed my fandom is that Jenny Slate is a vintage children's book nerd. How did I learn this? Instagram.
Here's her shout-out to the Dorrie the Little Witch series by Patricia Coombs. Which I only vaguely remembered and immediately ordered from the library because most of them are out of print: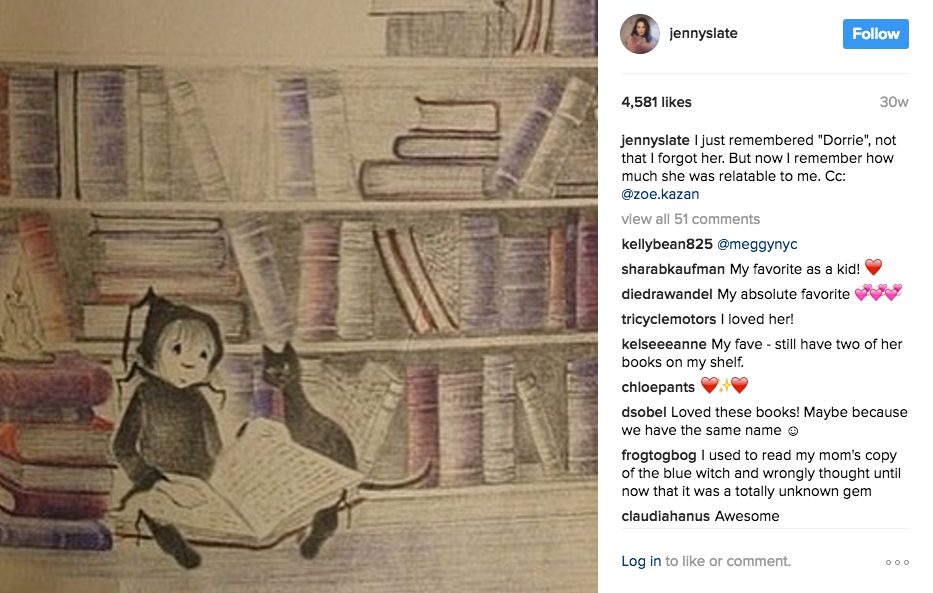 Here's a post with her childhood copy of Elmer and the Dragon: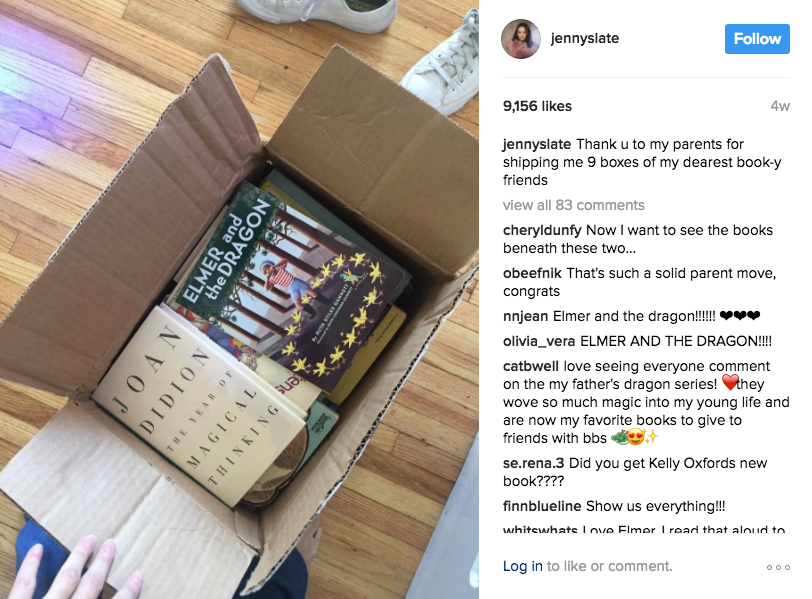 Here, with Tomi Ungerer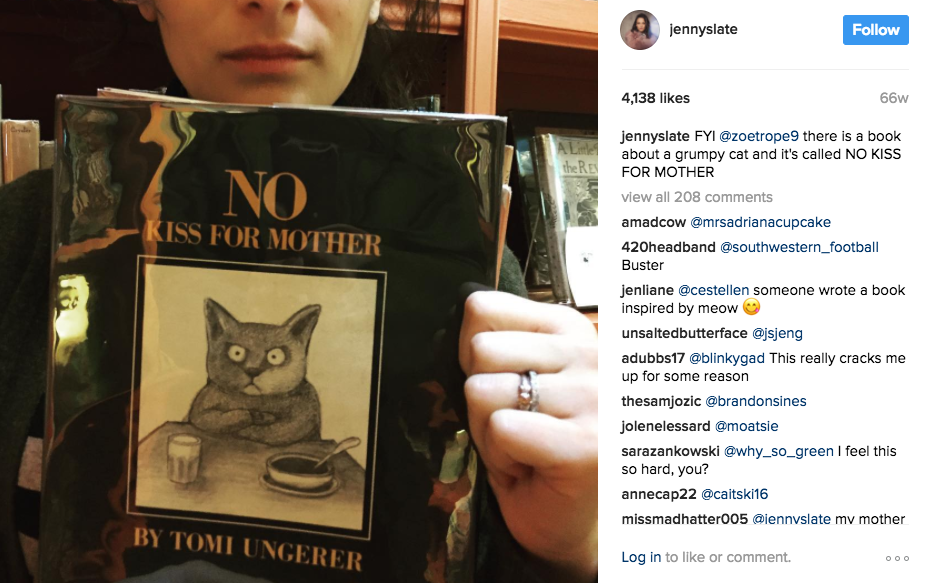 A page from Sarah, Plain and Tall: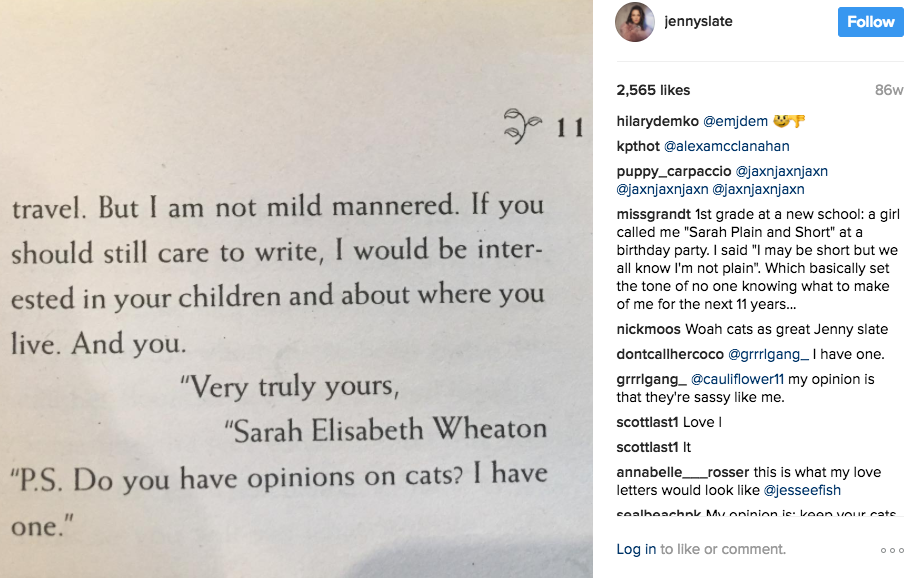 I have no idea what book this little mouse is from, so if anybody knows, please tell me in the comments: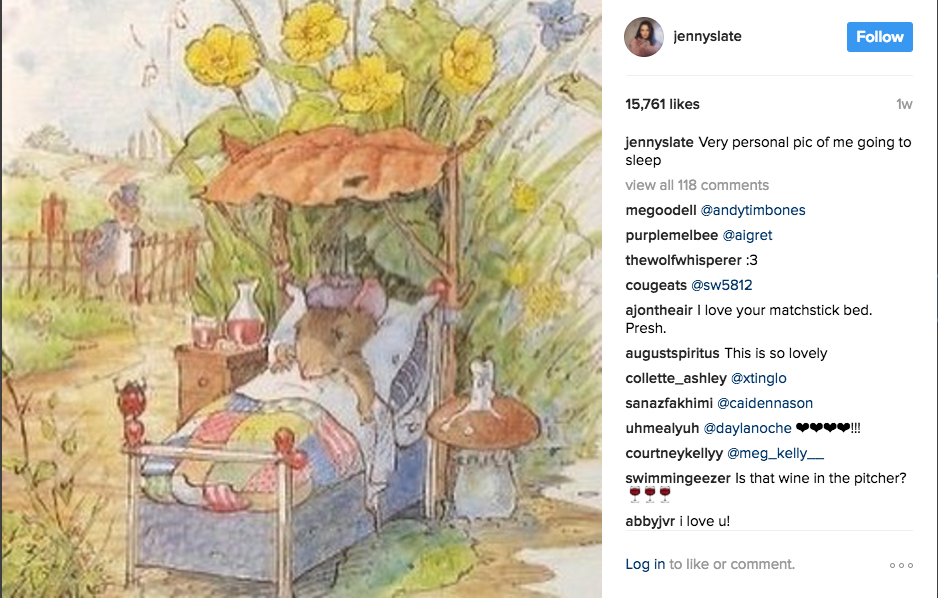 Ok, I am clearly obsessed. I also did some Googling.
In a recent interview with New York magazine, she says she loves the 1980 book Emma by Wendy Kesselman so much she has it on display in her house where she can see it when she wakes up. (I still have to get my hands on a copy):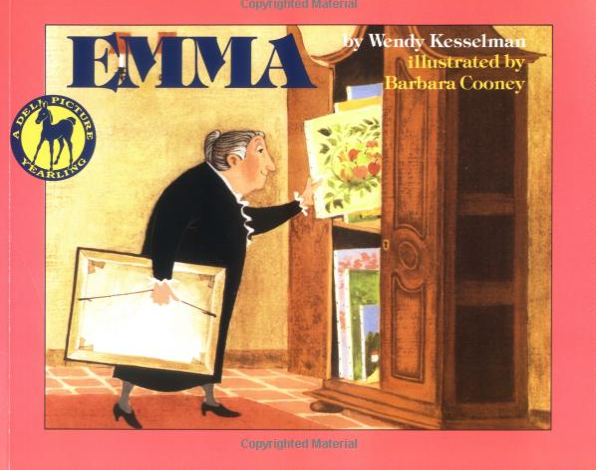 "It's about an old woman who doesn't love how she's alone, and then learns to make herself not alone through art, and draws people into her life through art. It's the fucking best thing."
She told Jezebel she loves Ox-Cart Man and Miss Rumphius, both also illustrated by Barbara Cooney (I've written about Ox-Cart Man here).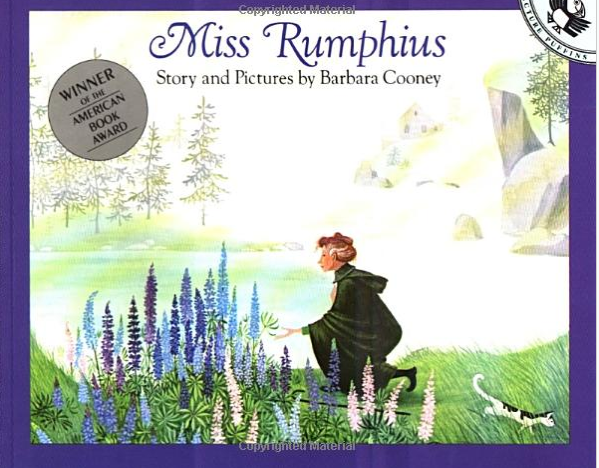 And also a book called I'm Telling You Now, illustrated by Lillian Hoban (of Bread and Jam for Frances fame):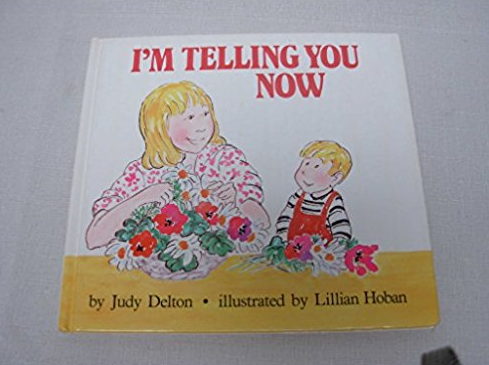 She describes it as "this beautiful watercolor book about this boy who did all these things that he wasn't supposed to do … but he was only curious."
She kind of sums it all up in this interview with Vogue:
"I always wanted to be a children's author and I have a really big library of children's books. All the ones from when I was little, they are just so beautiful. I read kids' books and they calm me down … I love all the Lyle the Crocodile books. I like Robert McCloskey's books—One Morning in Maine, Blueberries for Sal, Make Way for Ducklings. I like Sylvester and the Magic Pebble, all the Barbara Cooney books, like Miss Rumphius and The Ox-Cart Man are really good. And I like Chris Van Allsburg, those books like Just a Dream and The Polar Express. I like the classics. They're classics for a reason."
In short, friends, she's one of us.