With its crushing mortgage payments, hailstorms and diptheria outbreak, The First Four Years has got to be the grimmest book of the Little House series. (What nine-year-old wants to meet spunky little Laura as a stressed-out mom?) But thanks to this contribution from my longtime colleague and fellow-children's books obsessive, Rory Evans, I have  come to see Laura Ingalls Wilder's book in a whole new light. Thanks, Rory!

HOW EVERYTHING I KNOW ABOUT BEING A PARENT I LEARNED FROM THE FIRST FOUR YEARS 
ON THE HONEYMOON BEING OVER
In February Laura's 19th birthday came. Manly's 29th was just a week later so they made one celebration for both…It wasn't much of a celebration, just a large birthday cake for the two of them, and a little extra pains were taken in the cooking and arranging of the simple meal of bread, meat, and vegetables.
ON CAR SEATS
Laura had been at home so long, she wanted to go for a sleigh ride to see Ma and Pa. Could they take the baby out safely? They were sure they could. Some blankets were put to warming the stove. Manly drove the cutter close to the door and made a little warm nest of them in the shelter of the dashboard. Rose was wrapped in her own little warm blankets…and tucked tightly in among the blankets in the cutter. Then away they went.… Several times Laura put her hand in among the blankets and touched Rose's face to be sure that she was warm and that there was air beneath the veil.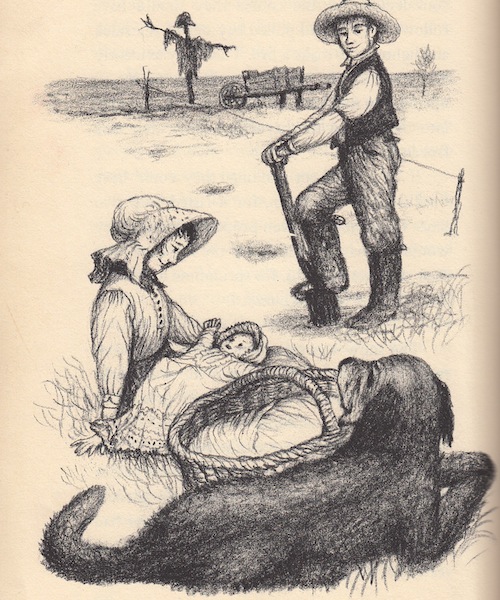 ON INFERTILITY OPTIONS
Mr. and Mrs. Boast lived by themselves on their farm. They had no children of their own… When at last the visit was over and Mr. Boast was standing by the buggy…he finally said in a queer voice, "If you let me take the baby in to Ellie for her to keep, you may take the best horse out of my stable and lead it home…You folks can have another baby, and we can't. We never can. Manly gathered up the reins, and Laura said with a little gasp, "oh, no! No! Drive on, Manly!" As they drove away, she hugged Rose tightly; but she was sorry for Mr.
Boast…
ON HIRING A NANNY
A friendly, stray Saint Bernard, a huge, black dog, had come to the house and been adopted…[He] seemed to think his special job was to watch over Rose, and wherever she was, there he would be curled around her or sitting close to her… Laura and Manly both liked to stay out in the sunny hayfield, and leaving Rose asleep with the big dog watching
over her…
ON BABY MONITORS
It was quiet and there was nothing to do after supper when Rose was put to bed…she slept soundly for hours. So Laura and Manly came to saddling the ponies and riding them on the road before the house, on the run for half a mile south and back, then around the…house, a pause to see that Rose was still sleeping, and a half mile run north and
back for another look at Rose.
ON THE 99 PERCENT
As the days passed bringing no [ruinous] hailstorm, Laura found herself thinking, Everything will even up in the end; the rich have their ice in the summer but the poor get theirs in the winter. When she caught herself at it, she would laugh with a nervous catch in her throat. She must not allow herself to be under such strain. But if only they could …sell this crop…Just to be free of debt and have …money to use for themselves would make everything so much easier….
ON HAVING IT ALL
It was a busy summer for Laura, what with the housework, caring for Rose, and helping Manly whenever he needed her. But she didn't mind doing it all, for Manly was recovering the use of his hands and feet.
ON HATING IT ALL
How could she ever keep up the daily work…there was so much to be done and only herself to do it. She hated the farm and the stock and the smelly lambs, the cooking of food and the dirty dishes. Oh, she hated it all, and especially the debts that must be paid whether she could work or not. [But Laura would] be darned she'd go down and stay down and howl about it.
–Rory Evans