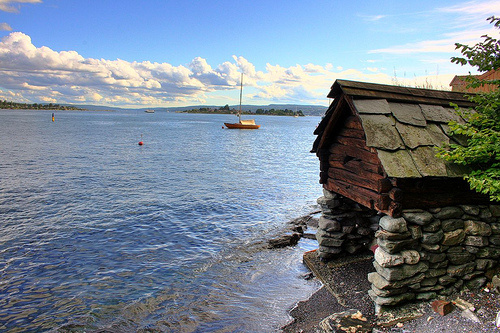 I have to admit, it was Hugh Jackman who turned me on to what has become my favorite Roald Dahl book. A few years ago Jackman told InStyle (where I was working at the time) that he was so taken with Dahl's 1984 memoir Boy: Tales of Childhood and the description of the Norwegian islands where Dahl spent summers as a youth that he was planning a vacation there with his own children. (See the page here.)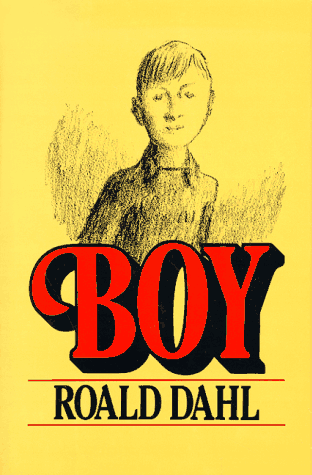 I eventually got hold of the memoir and all I have to say is: Hugh, I've never quite understood your appeal, I don't care about X-Men, and you could not pay me to sit through Les Mis — but you are so on the money about Boy! The book covers Dahl's years from ages 7 to 20, much of it focusing on his terrifying experiences at English boarding schools. The book is hilarious, dark and poetic all at once.
S & L were practically screaming with excitement when I read them the parts about Dahl's boyhood pranks (one involving a dead mouse and a candy shop owner) and the whippings he endured at the hands of his school's headmaster. But like my friend Hugh, the chapter of Boy I love best is "The Magic Island," in which Dahl describes the summers he, his Norwegian mother and his five siblings would spend on the fjords.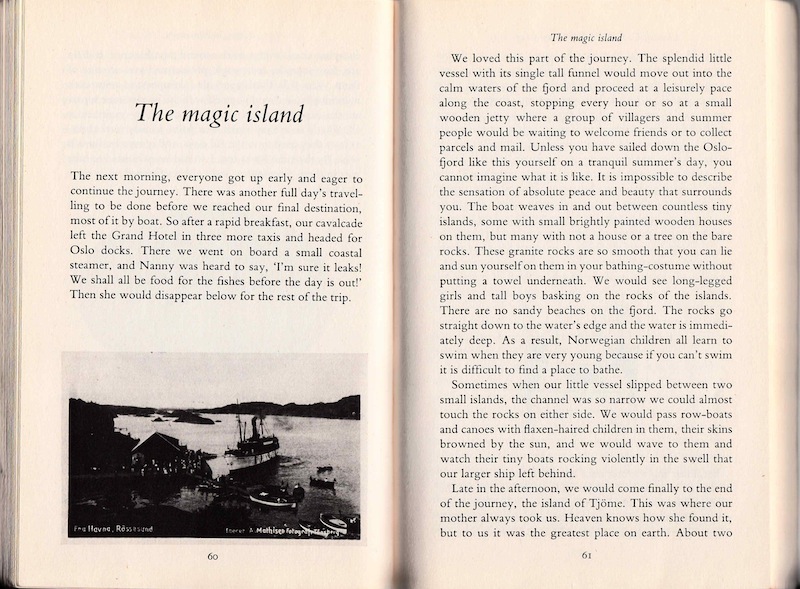 Unless you have sailed down the Oslo-fjord like this yourself on a tranquil summer's day, you cannot imagine what it is like. It is impossible to describe the sensation of absolute peace and beauty that surrounds you. The boat weaves in and out between cloudless tiny islands, some with small brightly painted wooden houses on them, but many with not a house or a tree on the bare rocks. These granite rocks are so smooth that you can lie and sun yourself on them in your bathing-costume without putting a towel underneath
The family would stay on the little island of Tjöme at a primitive wooden hotel run by a friendly elderly couple, where the breakfasts were magnificent.
There were large jugs of milk … and plates of cold beef, veal, ham and pork. There was cold boiled mackerel submerged in aspic. There were spiced and pickled herring fillets, sardines, smoked eels and cod's roe. There was a large bowl piled high with hot boiled eggs. There were cold omelettes with chopped ham in them, and cold chicken and hot coffee for the grown-ups, and hot crisp rolls baked in the hotel kitchen, which we ate with butter and cranberry jam. There were stewed apricots and five or six different cheeses including of course the ever-present gjetost, that tall brown rather sweet Norwegian goat's cheese….
After breakfast, they would all pile into a boat and whiz through narrow channels, heading for a secret beaches and other islands. They'd spend the day swimming, exploring and picking wild raspberries; then before heading back to the hotel they would fish for whiting and cod. They'd bring their catch back to the hotel to be cooked for their supper — and then they would wake up the next day to do it all over again.
As Dahl describes it, Tjöme and the surrounding islands were a paradise in the 1920s — perfect and unspoiled. As I have not been able to ask Hugh for his personal report, I have been busy Googling to satisfy my curiosity. It still looks pretty nice, actually.